Rybozen HDMI to VGA, Gold-Plated HDMI to VGA Adapter (Male to Female) Support Computer, Desktop, Laptop, PC, Monitor, Projector, HDTV, Chromebook, Raspberry Pi, Roku, Xbox and More
Compact and Portable Design:The HDMI to VGA adapter connects a computer, desktop, laptop, or other devices with HDMI port to a monitor, projector, HDTV, or other devices with VGA port.Tuck this lightweight gadget into your bag or pocket to do a business presentation with your laptop and projector, or extend your desktop screen to a monitor or TV

Incredible Performance:The HDMI male to VGA female converter supports resolutions up to 1920x1080@60Hz (1080p Full HD) including 720p, 1600x1200, 1280x1024 for high definition monitors or projectors.

Ultra Durability:Built-in advanced IC chip converts HDMI digital signal to VGA analog signal. Gold plated HDMI connector resists corrosion, improves the signal transmission performance and extends the life of this HDMI to VGA converter.A perfect use in different places and solution for different situations

Broad Compatibility:This HDMI to VGA adapter is compatible with computer, PC, desktop, laptop, ultrabook, notebook, Chromebook, Raspberry Pi, Intel Nuc, Roku, PS3, Xbox One, Xbox 360, Wii U, Set Top Box, TV BOX, or other devices with HDMI port. Meeting the requirements of different devices.

1 Year Warranty:This HDMI to VGA adapter is protected by a 12 months ; we will provide refund or replacement under any condition, to ensures your 100% satisfaction with your purchase.
Rybozen HDMI to VGA adapter provides a cost-effective and easy solution for connecting a desktop, laptop, or other devices with HDMI port to a VGA display such as monitor, projector or TV.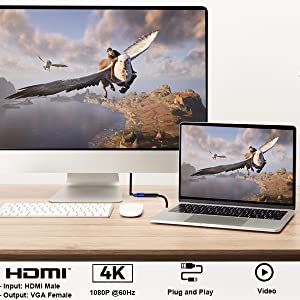 Notes
NOT compatible with DVD or Blu-ray players that requires HDCP key to review copyright contents.
NOT bi-directional, it doesn't support connection from VGA source to HDMI monitor/television.
Specifications
- Input: HDMI Male

- Output: VGA Female

- Installation: Plug and Play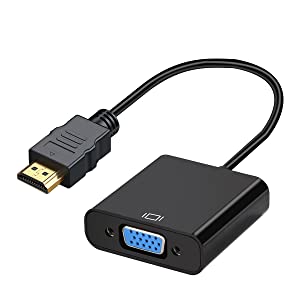 Easy to use:
Easy to install and use, the material adopted by this cable is excellent which has both durability and extensibility.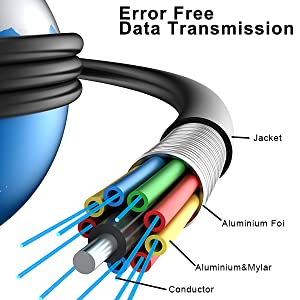 Outstanding Reliable Performance:
Bare copper conductors and foil & braid shielding provides both superior cable performance and reliable connectivity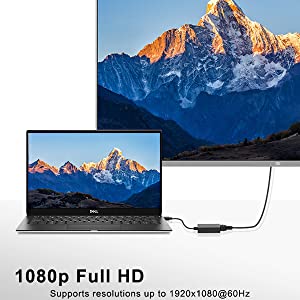 1080p Full High Definition:
Supports resolutions up to 1920x1080@60Hz (1080p Full HD) including 720p, 1600x1200, 1280x1024