USB 2.0 Switch Selector, KVM Switch Adapter for 4 PC Sharing 3 USB Devices, One-Button Swapping Box Hub for Keyboard, Mouse, Scanner, Printer, Computer, with 4 USB Cables
About this item
4 in 3 Out Switch Box [KVM]: 4 PCs share 3 USB Peripheral devices such as mouse, keyboard, flash drive, scanner, USB switch selectors.

One-Botton Switch: No plug-in and pug-out, just press one button to switch between 4 PCs to share 3 USB 2.0 devices. Best solution for people who need to work with 4 computers.

Easy Installation: Plug and Play, no driver needed. Just connect USB cable to computers and the USB port of the product.

Great Compatibility: Compatible for most of the systems such as Windows 10/8/8.1/7/Vista/XP and Mac OS X, Linux, and Chrome OS.

LED Light Indicator: Easily switch between 4 computers by a single click on the button with LED indicating the active computer.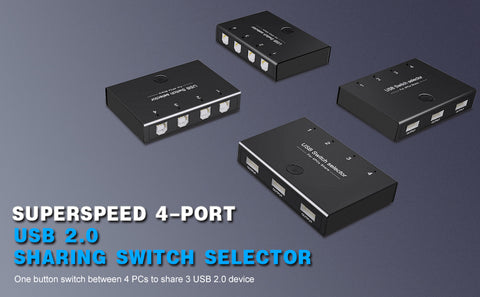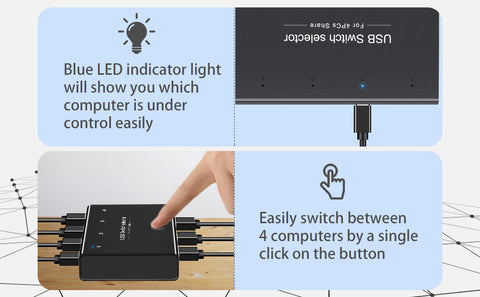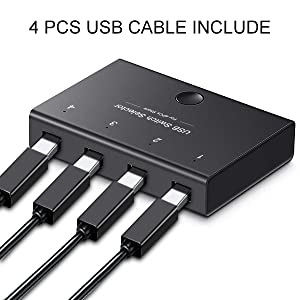 USB cable * 4 Included
package include 1.5M USB 2.0 cable Type A Male to Type B Male * 4

no need the extra cable to share with your 4 PC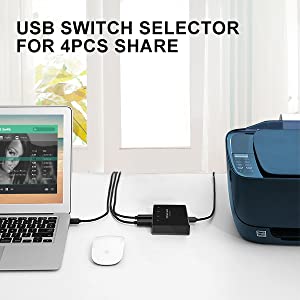 Easy to Use
one-button switch, plug and play without any driver installation

led indicator light will show you the active computer clearly.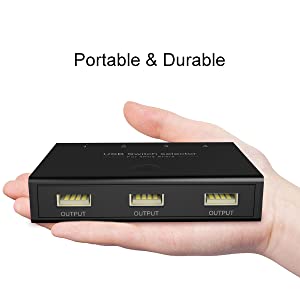 Portable & Durable
product dimension: 94mm(L) * 66mm(W) * 20mm(H)