2 Port USB VGA KVM Switch with 2 Cables, Selector Switcher for 2PC Sharing One Video Monitor and 3 USB Devices, Keyboard, Mouse, Scanner, Printer
About this item
【Dual Ports VGA KVM Switch】allows you to control 2 computers with one set of controls (Mouse, Keyboard and Monitor). Note: To share 1 Printer, make sure 2 PCs are powered-on.

【2 KVM Cables are Included】VGA and USB cable are 2 in 1. The USB connector works as power supply and data transfer (upgraded). Important NOTE: please plug the VGA with USB head to PC.

【HD Output】Supports HD Image/video up to 1920 x 1440 resolution (including 1080P 720P 480P). Support DDC and Automatic Identification high quality output.

【Compatible with 】Windows 10/8/7 / XP / Vista (32/64-bit), Mac, Linux, DOS, Win3, WINNT, Netware, and Unix. The VGA Switcher Box also supports online games and DVR.

【Plug and Play】One-Button Swapping , without Adapter and software. No external power required.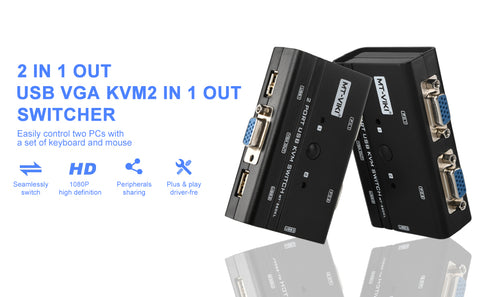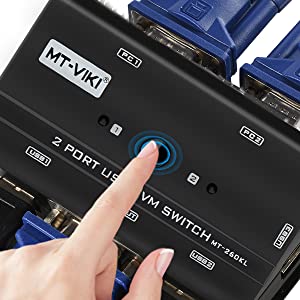 2 Port USB VGA KVM SWITCH
One-Button Swapping, Easy to plug and play. No external power required.