Rybozen Wireless TV Headphones with Transmitter Dock, Over-Ear Cordless Headset with RCA / 3.5MM Input, for Watching Home Television Game 100 Feet Play Range
About this item

【Long Range】: Has an exceptional wireless range of up to 100 feet/ 30M. The expanded reception range allows the headphones to be used when not in sight of the transmitter.

【Amazing Sound】: Enjoy amazing crystal clear sound. Efficient low power consumption chip design and the digital signal provides great sound with deep bass.

【Modern Convenient Design】: Soft-touch padded headphones and features a transmitter that also serves as the charging dock.

【Rechargeable Batteries】: The included rechargeable Li-ion batteries last approximately 18 hours on a full charge and recharge automatically when you place the headphones into the base station.

【Compatibility】: Our headphones allow you to binge watch your favorite Sports competition or TV or play your game. It compatibility with any device with AUX 3.5mm or RCA audio out port.
Listen to music relaxed anywhere - BR684
Ideal for TV, PC or hi-fi System
What could be nicer than lying comfortably on the sofa after a long day at work and relaxing in front of the television? But what should you do if your roommate or partner isn't in the mood for your favorite action series? It's simple: put on headphones and enjoy the film undisturbed. Thanks to radio technology, the whole thing works without annoying cables.
Volume control on the headphones:Thanks to the practical volume control on the headphones themselves, you don't have to get up to turn the sound down or up.
Note: In order to achieve the optimal sound experience with your headphones, you should set the volume of the sound source (TV, stereo system,) as high as possible and reduce the volume on the headphones themselves.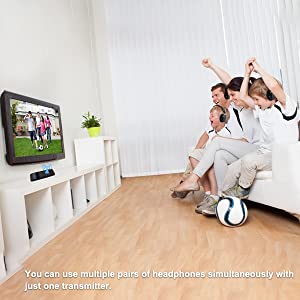 Fun for the Whole Family
You can use multiple pairs of headphones simultaneously with just one transmitter.
Wide Compatibility
Our TV headphones are widely compatible with different kinds of devices, including smart phones, tablets, MP3 players, and more.
Stereo Wireless Over Ear Headphones
The BR684 wireless headphone system lets you listen to television, music, and your computer privately in high-fidelity without disturbing others. Hook it up to any device with a 3.5mm output - your television set, your computer, a video game console, your iPod or iPhone, or even a baby monitor.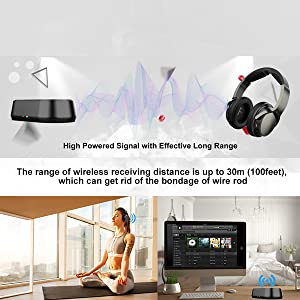 High Powered Signal with Effective Long Range
With a range of up to 100 meters outdoors and 20 to 30 meters indoors, you can move from room to room at will - with music as accompaniment. The wireless TV headphones from Rybozen are ideal for any playback device with a 3.5 mm jack plug. Regardless of whether it is a television, a laptop, a PC or a hi-fi system: Enjoy your favorite music or series at the volume that is perfect for you. A suitable adapter is included for all devices with a 6.3 mm jack connection. Just plug it in and the music from these devices can be heard through the headphones.